Welcome to Heym: An Introduction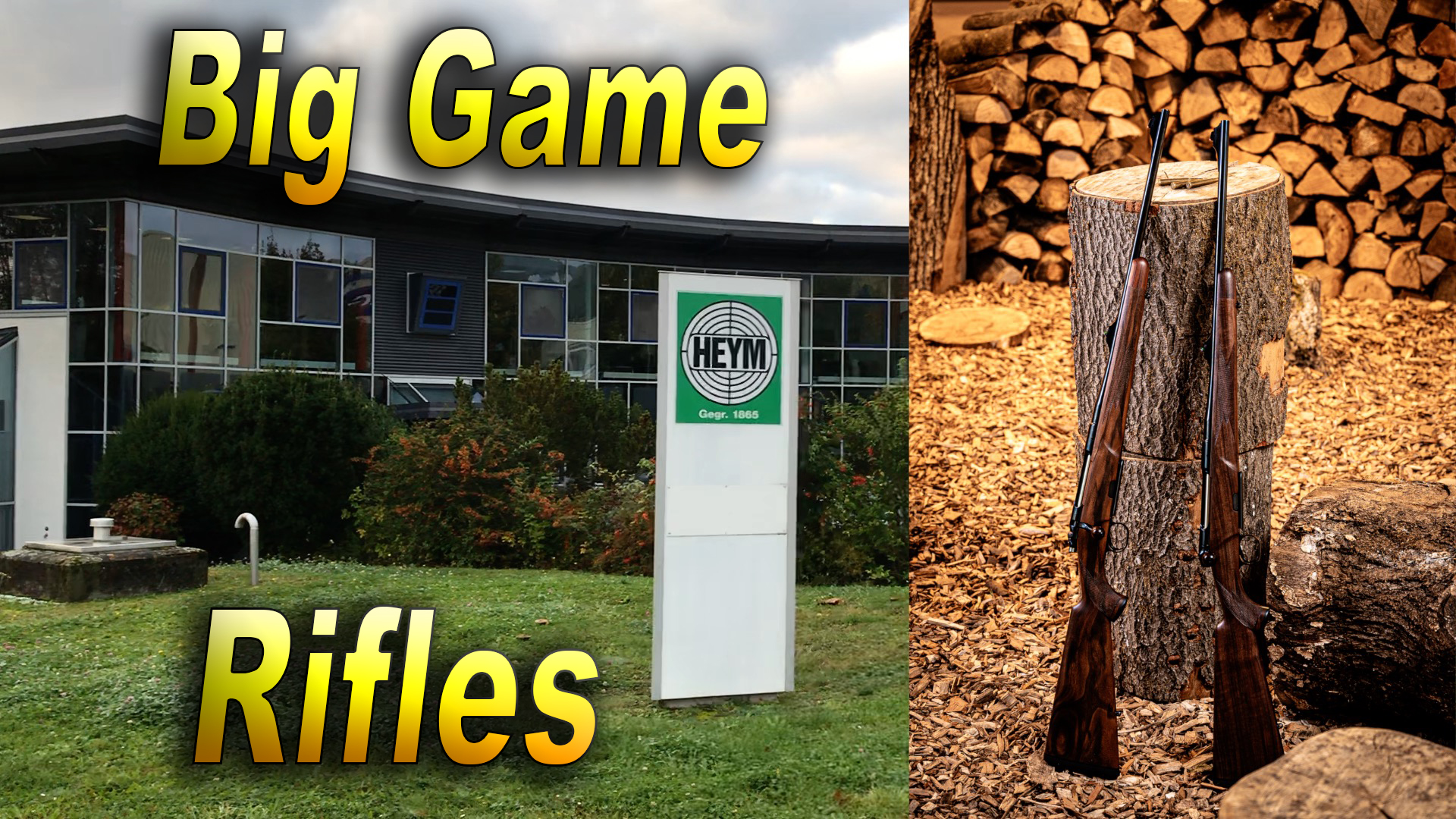 Embarking on a journey through the world of German gun makers, one cannot overlook the noteworthy Heym.
With a legacy dating back to 1865, Heym is a testament to the prowess and finesse inherent to German craftsmanship.
As we delve deeper into the world of Heym, we uncover a story of unwavering commitment to quality, innovation, and tradition.
A Legacy Woven in Time: Heym's History
Heym's tale begins in the heart of Germany, in the small town of Suhl, an area known for its deep-seated traditions in gun manufacturing.
The passage of time has seen Heym navigate through the changing tides of history, crafting a legacy steeped in resilience and innovation.
From the production of their first hunting rifles to the extensive portfolio of firearms they boast today, Heym's journey is a testament to their enduring pursuit of excellence.
From Tradition to Innovation: Heym's Products
Heym's product lineup serves as a brilliant showcase of the brand's dedication to quality, precision, and user experience.
From the exquisitely engineered bolt-action rifles like the SR 30 to the robust double rifles and over-and-under shotguns, Heym's arsenal caters to the varied demands of hunters and sports shooters.
SR 30
The SR 30, a hallmark of Heym's engineering prowess, is a straight-pull bolt action rifle designed for high precision and swift operation.
This rifle stands out due to its unique lock-up system, which utilizes six ball bearings for a secure lock-up and ease of operation.
The SR 30 also comes with a fully adjustable trigger, customizable to the shooter's preferences, enhancing both safety and accuracy.
Its versatile design allows for easy caliber interchangeability, making the SR 30 a truly adaptable companion for hunting in varied environments.
The blend of ergonomic design, innovative locking system, and excellent craftsmanship make the SR 30 a revered firearm among hunters and shooting enthusiasts.
SR 21
The Heym SR 21 is a classic bolt-action rifle that seamlessly blends tradition with modern features.
The SR 21 is renowned for its sturdy design and excellent shooting performance, making it a reliable choice for hunting in various environments.
One of the SR 21's standout features is its six-lug lockup, which offers high stability and precision. This feature ensures a quick, safe, and smooth operation, enhancing the user's experience.
The rifle is equipped with a free-floating barrel, which aids in maintaining a high level of accuracy, even with repeated shots. This ensures a consistent shooting performance, especially in high-pressure hunting situations.
Furthermore, the SR 21 comes with an adjustable direct-trigger system, providing the user with flexibility to customize it according to their comfort and needs.
The SR 21 is available in a variety of calibers, including popular options like .243 Winchester, .308 Winchester, and .30-06 Springfield, among others.
In terms of aesthetics, the SR 21 does not disappoint. The rifle is available with different stock options, including beautifully crafted walnut stocks, enhancing the look and feel of the firearm.
All these features combined make the Heym SR 21 a highly desirable firearm for hunters seeking reliability, precision, and style.
"Express" Magnum
The Heym Express Magnum is a double rifle designed for big game hunting and is a testament to Heym's expertise in gun-making.
Known for its reliability and performance, the Express Magnum is a favorite among those who appreciate the power and craftsmanship of a traditional double rifle.
The Express Magnum's barrels are made from a high-quality steel alloy, cold-hammer-forged, and painstakingly regulated for accuracy.
It features an Anson & Deeley boxlock action, which is known for its simplicity and strength, with intercepting sears for added safety.
One of the defining characteristics of the Express Magnum is the double triggers, a setup favored by many hunters for its reliability in high-stress hunting situations.
The front trigger is designed for the right barrel, and the rear trigger for the left barrel, allowing for a rapid second shot if needed.
The Express Magnum also comes with regulated iron sights, optimized for short- to medium-range shots typical in big game hunting.
The receiver can be left in classic blued steel, or it can be color case-hardened for a more traditional look.
The rifle comes with a high-grade walnut stock, with hand-cut checkering.
The straight English-style stock helps manage recoil, while the beavertail fore-end offers a steady grip.
The Heym Express Magnum is available in several calibers suitable for big game hunting, including .375 H&H, .450/400 3″ NE, .404 Jeffery, .458 Win Mag, and .500 NE, among others.
As always, for the most accurate and up-to-date information about the Heym Express Magnum, it's best to visit the official Heym website or contact a trusted Heym dealer.
Every firearm leaving the Heym facility is a testament to the brand's commitment to maintain a harmonious blend of traditional craftsmanship and modern innovation.
Why Choose Heym?
Heym stands out in the crowded firearms market due to its unwavering commitment to quality and tradition.
Every firearm crafted by Heym is not only a functional tool but an artwork reflecting the passionate dedication of their master gunsmiths.
Choosing Heym means investing in a firearm that promises durability, precision, and a timeless appeal that withstands changing trends.
Exceptional Care: Heym Customer Service
At Heym, customer service is not just about after-sales support; it's about creating a memorable experience for each customer.
The company takes pride in offering personalized care, ensuring that every concern is addressed promptly and professionally.
Heym's commitment to its customers extends beyond the purchase, forming a lasting relationship based on trust and shared passion for high-quality firearms.
Finding Your Heym: Heym Dealers
Heym firearms are not just products; they're investments, and to ensure a seamless purchasing experience, Heym works with a network of authorized dealers worldwide.
These dealers are carefully selected, ensuring they uphold Heym's high standards of customer care and product knowledge.
So, no matter where you are, finding a Heym dealer means finding a piece of German gun making heritage within your reach.
Engaging the Community: Heym Events
Heym believes in fostering a community of passionate firearm enthusiasts, and their events are an embodiment of this philosophy.
These events range from product showcases to hunting expeditions, providing a platform for Heym owners to share their experiences and stories.
Participation in Heym events not only provides an engaging experience but also allows individuals to truly appreciate the craftsmanship, precision, and reliability inherent to every Heym firearm.
In the Limelight: Heym in the Media
Heym has often found itself in the media spotlight, owing to its rich heritage, superior craftsmanship, and innovative products.
Respected publications from around the globe have lauded Heym's firearms for their performance, durability, and elegance, further cementing Heym's standing in the industry.
Such recognition from the media reflects the respect and admiration the brand commands in the world of firearms.
A Commitment to the Future: Heym's Social Responsibility
Heym is a brand that acknowledges its role in shaping the future, and this consciousness is reflected in its approach to social responsibility.
Their commitment to environmental sustainability is apparent in their manufacturing processes, which aim to minimize waste and maximize efficiency.
Heym also believes in supporting the local communities in which it operates, fostering a sense of unity and shared progress.
Looking Ahead: Heym's Future
The future for Heym is a promising canvas, filled with opportunities for growth, innovation, and deeper customer engagement.
With a steadfast commitment to quality and tradition, Heym envisions a future where it continues to set new benchmarks in the firearm industry.
Their focus on sustainable practices and evolving consumer needs promises an exciting journey ahead for this revered brand.
FAQ
Are Heym rifles any good?
Heym rifles are recognized for their quality craftsmanship, precision, and durability, making them a popular choice among hunters and shooting enthusiasts worldwide.
Who makes Heym rifles?
Heym rifles are made by F.W. Heym, a German gun maker company with a long-standing reputation in the firearms industry.
Where are Heym rifles made?
Heym rifles are made in Germany, at the company's facilities in Gleichamberg, Thuringia.
How much does a Heym double rifle cost?
The cost of a Heym double rifle can vary greatly based on the model and customizations, that being said they typically range from $10,000 to over $25,000.
Who makes German double rifles?
Several German companies manufacture double rifles, with F.W. Heym and J.P. Sauer & Sohn among the most notable. They are recognized for their exceptional quality, precision, and craftsmanship.
Related Topics: